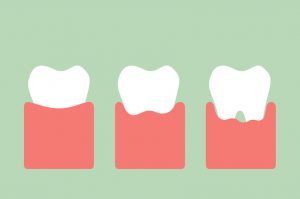 Have you been told that you have receding gums? Before you go about treating your receding gums, it might be best to determine what is causing your gums to recede. Once you're able to determine what the cause is then you and your dentist can decide what is the best treatment for you to help treat and restore your gums. Here are some of the possible solutions on how your dentist might go about treating your receding gums:
Deep Cleaning: This procedure will involve your dental care specialist using specific tools that help in removing any form of plaque or tartar buildup in areas that your gums are receding.
Gum Grafting:  This procedure involves your dental care specialist to take a part of healthy gum tissue from the top of your mouth and then put it in places where the gum has receded. In some cases, they might not use your actual gum tissue and instead use a type of gum grafting material. Also, your dentist could advise you to see a periodontist as they tend to specialize in treating gum tissue.
Regeneration: This process involves surgery in which a material is positioned into the area where there is bone loss. This surgical procedure helps restore the bone and tissue which is then places in the area in which a couple teeth have been affected.
Sometime's receding gums happen over time which can make it difficult to notice especially if you don't feel sensitive or experience pain. If you notice that there is a gap between your teeth, or that your teeth seem long or look wider at the base of your teeth then you might want to speak with your dentist about it so they can find the best possible treatment for you.