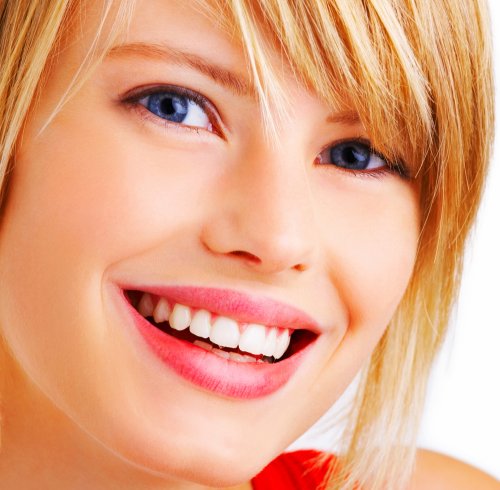 Dental bonding is a procedure that offers both cosmetic and restorative benefits. The treatment involves the application of a composite resin material to the teeth in order to conceal cosmetic flaws such as cracks, chips, discoloration, and imperfections in shape or size.  The bonding solution can also be used to fill small cavities and repair otherwise damaged teeth. Your dentist will color the bonding material so that it perfectly complements the color of your surrounding natural teeth and blends seamlessly into your smile.
For many patients, dental bonding serves as less expensive, but nevertheless excellent alternative to porcelain veneers. Other patients are attracted to the fact that the dental bonding procedure requires no alteration to the natural structure of the teeth and therefore can be reversed. Dental bonding is a remarkably versatile procedure in that it can be performed on its own or in conjunction with other cosmetic and restorative dentistry treatments such as teeth whitening, dental crowns, and dental bridges.
Another appealing characteristic of dental bonding is that the procedure yields instant results. You can walk into a dental office and after a single appointment emerge with a beautifully rejuvenated smile. Results can last for many years with proper oral hygiene and routine dental visits.
Candidates
Do you have minor aesthetic flaws affecting your front teeth? Are your teeth and gums in generally good health? Are you a non-smoker? If you answered yes to all of these questions, you may be a good candidate for dental bonding treatment.
Minor Cosmetic Imperfections
Dental bonding can conceal minor cosmetic imperfections such as yellowed, stained, gapped, chipped, cracked, and misaligned teeth. For more extensive cosmetic issues, patients may want to consider porcelain veneers.
Chipped Teeth: A chipped tooth can be caused by a number of events: a fall, sporting injury, car crash, or a bicycle accident, among others. Treating a chipped tooth immediately will not only improve aesthetics. It will also protect the tooth from further damage. Bonding allows dentists to replace the lost tooth material with the durable and natural-looking composite resin.
Discolored Teeth: Some tooth stains and discoloration do not respond to professional teeth whitening treatment. For example, intrinsic stains are immune to bleaching. In other cases, the stains affect only a few teeth. Additionally, patients who suffer from dental sensitivity are typically not good candidates for whitening treatment. In situations such as these, dental bonding can whiten a patient's entire smile.
Gapped Teeth: Gaps between teeth can make them appear misaligned, asymmetrical, or misshapen. Some patients choose dental bonding to close gaps or make them smaller. Composite resin can close a single gap between two teeth, or it can close gaps all across a patient's smile.
Misshapen Teeth: Composite resin can also add additional width or length to teeth. Added to the bottom of teeth, it can create a more even edge, or it can make teeth more proportionate. The result is a more beautiful smile that complements and enhances the natural facial structure.
Slightly Crooked Teeth: A dentist can use bonding to correct one or two teeth that are slightly out of alignment. During treatment, he or she may slightly reshape the teeth. Then the dentist applies composite resin to make the tooth sit flush against the adjacent teeth.
Fractures: Bruxism, facial injury, or chewing on a hard objects such as ice can cause small dental fractures. A cracked front tooth will affect a patient's appearance, as well as his or her dental health. Fortunately, a quick dental bonding treatment can easily conceal the crack.
Dental Bonding after Braces: It is quite common for patients to undergo dental bonding after wearing braces. In this way, they can further enhance the results of their orthodontic treatment. The bonding solution can also mask any staining that was caused by the braces. In some cases, patients who wore braces years ago may have developed some new crowding or gaps. Dental bonding can address these problems.
Additional Considerations
Generally, in order to be considered a good candidate for dental bonding, patients must have good oral health. Any dental problems such as cavities and gum disease should be resolved before the patient proceeds with cosmetic treatment.
Smoking is one of the most common and aggressive causes of dental discoloration. Unfortunately, composite resin is immune to whitening treatment. Therefore, dentists typically recommend that patients stop smoking before they undergo dental bonding. Individuals who regularly smoke cigarettes will begin to notice increased discoloration of the teeth as the months and years pass. Eventually, they will need retreatment to maintain the aesthetic integrity of their smiles.
Cost
The cost of dental bonding ranges from about $100 to $400 per tooth. There are a number of factors that can influence the cost of your particular treatment. The number of teeth you wish to treat is, of course, a major consideration. However, the area you want to treat will also affect the cost. For example, if you want to fill in a tiny chip, your treatment will typically cost less than if you want to enhance an entire tooth that is severely discolored.
Additionally, your geographic location will play a role in the cost of your treatment. Like many things, the cost of dental care will be higher in cities than in more rural areas. Finally, your dentist's reputation and experience will affect the cost of dental bonding. While it may be tempting to choose a practitioner who offers inexpensive care, remember that cosmetic treatment is an investment in your smile and your future. For optimal results, it is important to select an experienced dentist who consistently yields good results.
Comparing the Costs of Other Treatments
When you are considering your cosmetic dental options, it may help to compare the cost of bonding with the prices of similar treatments. For example, teeth whitening can run between $100 and $2000, depending on the method you select. Orthodontic treatment may cost between $3000 and $7000. Veneers will run between $750 and $3000 per tooth. As you can see, dental bonding may be the optimal way to enhance your smile if you have a limited budget. Additionally, bonding can perform many functions at once. In some cases, the treatment can prevent you from needing multiple procedures.