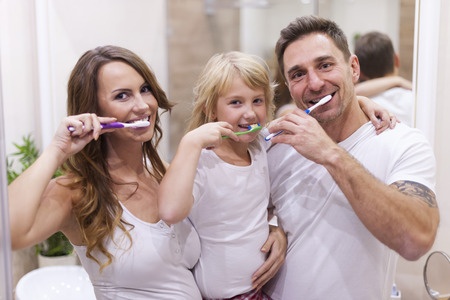 Having your kids brush their teeth at night might seem like a mission but it is important that they get into a good brushing routine early on. Fret no more because we are here to save the day with these fun brushing ideas so that not only will it be easier for you but they will also enjoy brushing too.
Let your kids choose: Allowing your kids to choose what color toothbrush they use as well as the type of flavor toothpaste, can be a fun start to getting your kids excited about brushing.
Let them practice on you: Letting your kids brush your teeth might be something fun, and if they enjoy it enough they may be more likely to want to brush their own teeth as well.
Sing and Dance: Everyone loves to sing and dance. Having music in the background can make doing any activity or chore a bit more enjoyable rather than making you bored. Most kids love to sing and dance so why not incorporate it into their brushing routine. Play your kids favorite song and get them into the swing of brushing and dancing because they'll definitely enjoy it more.
Storytelling: Another great way to get your kids to brush their teeth is by telling them a story possibly one relating to teeth. A good story idea might be telling them a scary story about how monsters get angry when kids don't clean their teeth or maybe how the tooth fairy doesn't like to visit kids who have dirty teeth.
Hopefully these ideas will come in handy for you to incorporate in your kids brushing routine. Good luck and happy brushing!