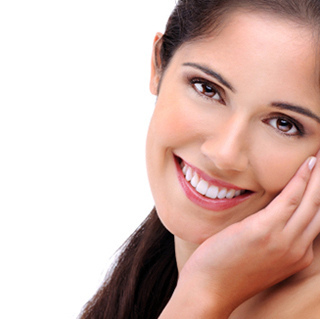 1. Whiter Smile – A master ceramicist custom-crafts your porcelain veneers according to design choices agreed upon by you and your cosmetic dentist. Because they cover your natural teeth, you may choose the shade that fits your goals, for a whiter, brighter smile. This is particularly beneficial for individuals with teeth sensitive or resistant toteeth bleaching.
2. Improved Teeth Shape – Because veneers fit over your teeth, you can camouflage your natural tooth shape. If you have chips or cracks, the veneers will hide these flaws. You can also choose a tooth shape and length that better complements your facial features.
3. Natural Finish – Porcelain veneers are composed of ceramic with a translucent finish, just like your natural teeth. Because they are ultra-thin and custom-fitted, they will look like natural teeth in any light, for a more beautiful smile that truly looks like your own. In addition, they offer the durability and stain-resistance for a smile that lasts.
4. More Uniform Smile – Issues like stains and discoloration can disrupt the uniformity of your smile. However, mild misalignment and spaces can cause an even greater disturbance of a beautiful, streamlined smile. Porcelain veneers can correct these problems, giving you the straight, immaculate-looking smile you desire.
5. Addresses Multiple Concerns – Porcelain veneers address a multitude of imperfections with a single, non-invasive treatment that will last many years. Rather than picking and choosing from a variety of treatments, which may add up quickly in cost, time, and effort, porcelain veneers offer a smile makeover with a single treatment.